LG phone, noted for its high-quality audio and multitask management configuration, is still one of the live options. In the era of single-function MP3 player gone forever, it's cool to listen to the music with LG.
However, there are problems with the music downloaded directly from the mobile often. For example, some content may not be played due to lossy compression, or incompatible formats, so they need to be downloaded from the computer first before format conversion. Thus, how to download music to LG phone from computer is a desirable step for many people.
Well, in this article, we will sum up how to transfer music from a computer to LG mobile and how to download music onto your LG phone directly.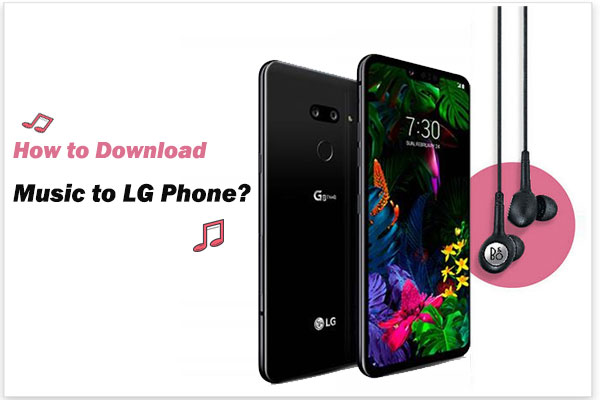 Way 1: How to Add Music to Your LG Phone from Computer via a USB Cable
Many Android phone owners know that a USB cable can be used to connect an Android phone to a computer and transfer media files from Android to PC in a straightforward way. Well, can we get the transfer done reversely?
The answer is absolutely yes. Similarly, you need to select the File Transfer mode on your LG mobile, create or find a folder for storing files on your phone, and then transfer the wanted music over from the computer. After the task, you're free to enjoy the music on your gadget.
Let's see how to put music on my LG phone from a computer using a USB cable:
Step 1. Download the music you want to any folder of your computer. Link the LG phone to the computer via a USB cable.
Step 2. On your LG device, check the notification from the system tray to choose (PTP) Picture Transfer Protocol or MTP (Media Transfer Protocol).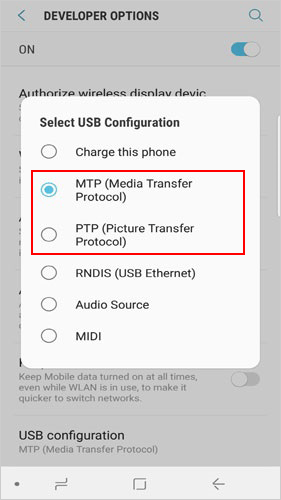 Step 3. Locate or create a folder on the LG phone to save your favorite songs. Then drag the desired music from the computer to the location of your phone.
Way 2: How to Download Music to LG Phone with Google Play Music
You can download music from the webpage of Google Play Music. To ensure a smooth download, you'd better get Google Chrome installed at first, for this solution works on the Chromium-based Microsoft Edge with Chrome extensions added. Apart from that, you're also allowed to obtain the songs from the Google Play Music app.
If you are a new user, you need to associate your Google account with Google Play Music and will enjoy free service for 3 months. After that, you can choose to pay a monthly fee to continue getting fun from the service. (P.S. What if Google Play Music doesn't work? Here're the fixes)
Here's how to download music onto your LG phone using Google Play Music:
Download music to LG phone from the mobile page of Google Play Music:
On your LG phone, visit the Google Play Music web player.
Sign in to your Google Play Music account and locate the songs or albums. They can be purchased or uploaded songs.
Touch the 3-dot icon on the album or the individual song to select "DOWNLOAD NOW".
You can now click the arrow icon from the left bottom of the page to view the download progress.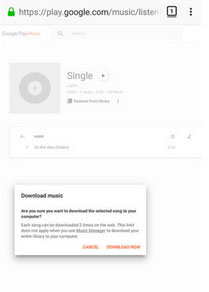 Download songs to LG phone from Google Play Music app:
Download, install, and launch the Google Play Music app on your LG phone.
After you get into your Music account, swipe right from the left edge to go for "My Library".
Decide which album or song to download and then tap the corresponding option.
Tap on "Download" to get the songs to your LG phone.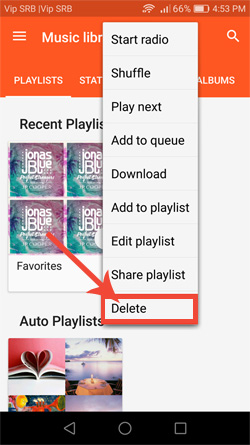 Further Reading:
5 Effective Methods to Transfer Data from LG to LG
How to Transfer Text Messages from LG Phone to Computer [Verified]
Way 3: How to Put Music on LG Phone from Computer with Assistant for Android
Since it's often easier to download music from your laptop or desktop, you may want to transfer the songs from the computer to your LG phone. At this point, many folks would choose MobiKin Assistant for Android (Win and Mac). This helper can not only enable you to simply transfer music from computer to LG phone but also won't damage the original quality of the items.
Further, it can also do additional work, such as intelligently manage your Android data. Let's say that it's able to transfer various data between your Android phone and PC/Mac in simple clicks, export Android contacts and messages to computers as appropriate formats, and capture your Android phone's screen on a computer, etc.
Some other highlights of Assistant for Android:
Empower you to add or delete playlists and manage Android songs on your computer at will.
Back up and restore Android devices in one tap.
Supported data types: contacts, text messages, call logs, apps, photos, videos, music, movie, books, etc.
Install or uninstall APK files to your Android phone on your computer.
Manage your Android data on your computer without any trouble.
Work well with overall Android devices, including LG G9/G8/G7/G6/G5/G4/G3/G2, LG K50/K40/K30/K20, LG V60/V50/V40/V30, P350, P500, P503, P509, P970, LG Q7/Q6, LG C550, E400, E720, GT540, GW620, etc.
It does not record any privacy of its users.
Now, download and install this software on your PC/Mac first. Then, for both Windows and Mac users, you can get the corresponding versions on your computer and go over the steps below to add music to your LG phone.


How to put music on LG (or other) phone from computer with Assistant for Android:
Step 1. Run the software on your computer and then connect your LG phone to the computer via a USB cable. Next, follow the easy prompts to let your phone be recognized by the program successfully.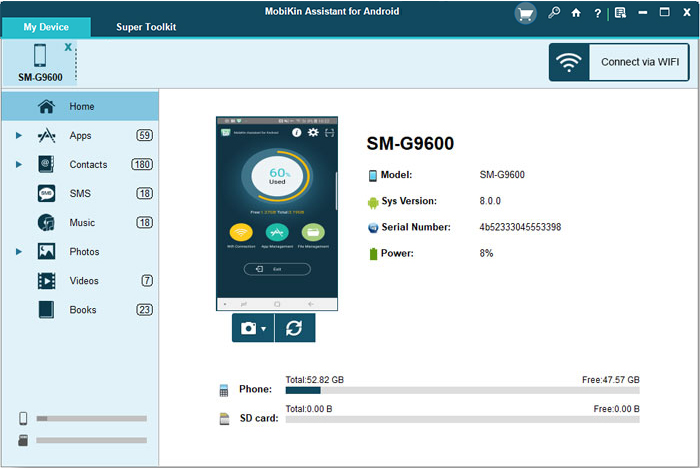 Note: You can also refer to the page – how to connect my Android phone via WiFi – to get your LG phone connected over the Internet.
Step 2. After that, you'll get the main interface of the utility. Choose "Music" from the left pane, tap on "New" at the top menu, and select the desired songs from your computer.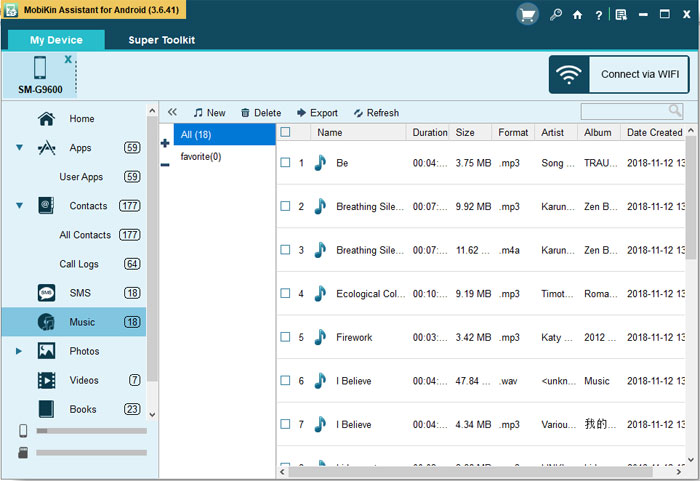 Step 3. Click on "Open" to start moving the selected songs from your PC or Mac computer to the linked LG phone. That's it.
Words in the End
With the 3 methods described above, you can make a flexible choice as the case may be. OK, now how do you put music on your LG or other Android phones? Welcome to share your idea with us in the comment section.
Finally, here's a bonus tip. If you are using an older handset like LG G3/G2 or LG GM 310/GM 210, etc., you might as well check the audio formats supported by your mobile before downloading the songs. If things don't go as planned, you could pull the music off the Internet, process them with some audio format converter on your computer, and then transfer them to your LG phone.
Related Articles:
User Guide: How to Delete Music from Android Phone/Tablet Effectively?
How to Download Music from Pandora on Android Phone
LG Music Transfer: Transfer Music between LG and Computer
Copy Photos, Music, Videos from LG to iPhone 12/11/XR/XS/X
Transfer or Move Music from LG to Samsung Galaxy S/Note
4 Reliable Ways to Transfer Contacts from LG to Samsung